Corporate learning is described as activities organized specifically to educate an organization's personnel. It's also known as workplace learning because it aids in the acquisition and refinement of skills and knowledge in the workplace for personal and professional development. The organization or employer is responsible for developing corporate learning initiatives that will benefit all of the company's employees. The greatest ones can simply meet the learners where they need to be. One of the most important benefits of corporate training is that it assists in the development of young talent into tomorrow's leaders. It also aids in improving employee satisfaction and lowering turnover. Different types of corporate training programs assist professionals in the following areas: identifying talent and understanding their needs. Depending on their size, diversity, and the characteristics of their industry, different organizations may have a variety of training programs.
The most popular types of corporate training programs are listed below: 
Leadership Skills and Management Development: 
Improved communication skills, collaborative tactics, goal planning, forecasting, behavioral interviewing, development coaching, conflict resolution, priority management, and team building are among the topics covered in leadership skills training programs. These programs are designed at all levels of the workforce, from senior executives to emerging leaders in lower echelons. Providing employees with managerial positions will keep them interested in working for the organization.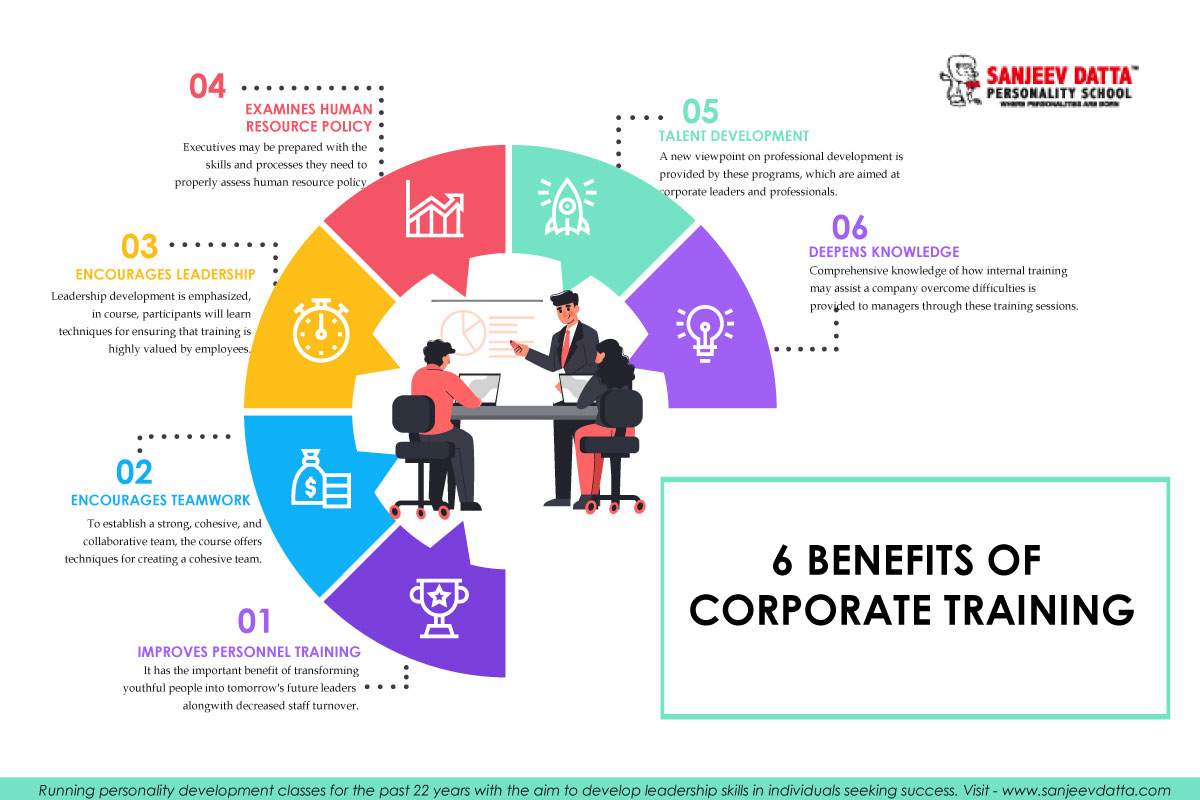 2. Ethics and Harassment: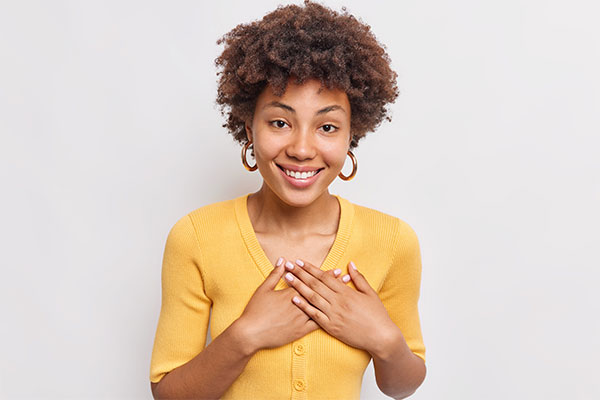 Ethics and harassment training is provided to employees at all levels irrespective of their departments. Every single person working in the organization undergoes a course on workplace ethics and harassment. This makes employees aware of workplace ethics. According to the personality development course, recognizing the value of ethics at work gives employees a sense of security since they are not harassed by coworkers and managers treat them with respect. If these ethics are broken, disciplinary action is taken to make the workplace a better place to work.
3. Client Management: 
Corporate training emphasizes improving customer and client relationships. Improving sales training, appropriately dealing with customers, active listening, non-verbal communication, presentation skills, writing techniques, and virtual communication falls under customer-client communication training. It's critical to improve communication skills if you want to meet your company's goals and objectives. Employees need these abilities to properly deal with customers and clients and keep them pleased, which is why a healthy business culture is so important.
Visit: career development strategies
4. General Safety and Emergency Procedure: 
Having an emergency plan in place is critical because it reduces the chances of the company suffering significant losses in the event of a fire or other form of disaster. In the event of a workplace emergency, the company could lose a large amount of money as well as staff. Proving knowledge about general safety will help employees gain a better understanding of how to ensure one's safety and what to do in an emergency.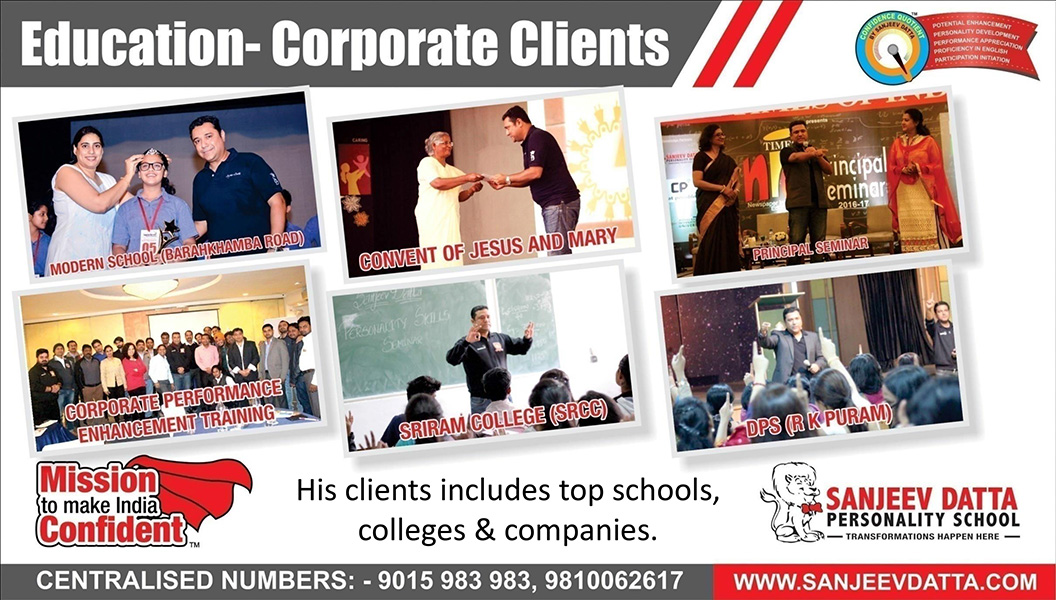 5. Cyber Security Protocols: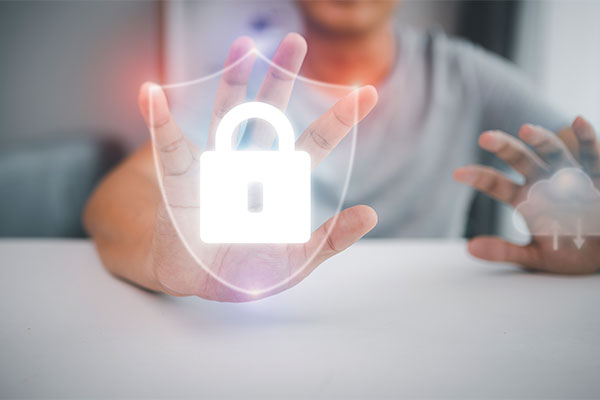 Avoiding phishing emails and using strong passwords are among the tips. Employees are encouraged to avoid conventional strategies in favor of more distinctive methods of identification, such as a separate PIN or strong passwords that cannot be decoded, as part of the program. It also instructs staff on how to avoid falling victim to phishing scams, preventing hackers from gaining access to sensitive information. This type of corporate learning is also practiced by professionals such as the best corporate coach of India. This training teaches the basics of cybersecurity to ensure any mishaps down the line.
6. Soft Skills: 
Emotional intelligence, professional qualities, attitudes, personality traits, communication skills, social skills, and people skills are among the soft skills training and learning programs. Soft skills training teaches you how to recognize your strengths and shortcomings and how to use them to create a confident and positive image. This leads to greater personal and professional success. It plays a critical role in assisting employees in dealing with clients, customers, and coworkers, as well as functioning in groups and navigating the rough waters of the workplace.
Visit: soft skills to practice
7. Time Management: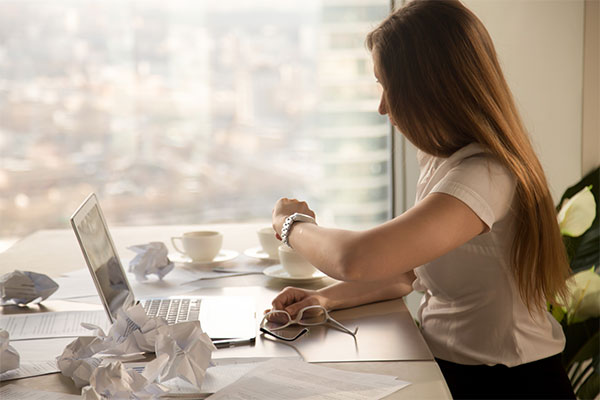 Time management training, when properly performed, helps people's daily operations. Employees eventually improve their workload management skills as a result of consistent training. They become more proactive and efficient, completing duties on schedule. For busy businesses, time management is critical so that they can prioritize all of their job responsibilities and meet their objectives more quickly. You'll be able to take on new possibilities and sustainably build your company if you properly manage your time. This training helps in improving the productivity of an organization.
There are numerous advantages to participating in training and development programs. Employee performance is improved, productivity is increased, turnover is reduced, and the corporate culture is improved. Corporate training is regarded as a wise investment that allows businesses to compete more effectively in today's market. Companies are developing tailored and relevant programs that will prove useful in satisfying specific demands and criteria. These various types of corporate training have tremendous benefits resulting in smooth and effective productivity of an organization.
Sanjeev Datta is a Curriculum consultant for Personality Education Skills Development for Times of India Professional Learning Network.
With his Personality Education based TAM techniques, he has been training Indian delegates for Miss India Organisation(Times group) for the last seven years & has contributed to India winning 09 International titles including Miss World'17 & Miss Universe'21.
From the very set of people from kids to executives who want to boost personality, leadership, and performance enrichment we would be there right on your doorstep to cater to your school, college, or a company that desires our valuable input to step up the game. Soft skill development which is ordinarily outlined as a non-technical skill which is embedded in all of us that allows someone to communicate efficiently and harmoniously with others is essential to companies and can reshape society, mindsets, administration, characters, and performances.
Contact Us to know more…